We have settled back into school well by now. We have been working hard this month. Our overall theme has been transport. We have learned poems about race cars, done art to do with transport, learned about transport in the past and predicted what it may be like in the future and much more to do with transport.
In science we learned about simple machines, levers and wheels and axle's. We even made waving hands to practice using levers using card and split pins only. In art we made race cars, using clothes pegs and pipe cleaners and buttons to make wheels and axles.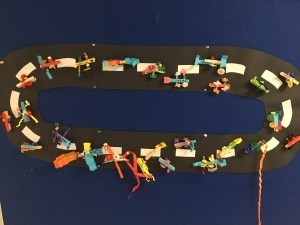 In maths this week we are collecting data and representing this data on bar charts. We are looking forward to starting multiplication next week also. There are lots of new topics to be learned in 3rd class maths.
Since September we have been practising recount writing and last week we practised writing diary entries.  Some of these diary entries were quite funny and made us laugh.
Last Friday our house (Epic Elephants) won the star and Mr Byrne announced that our class and Ms Kavanagh's class won the most points and helped our house to win the star. We got so many points by working as a team, respecting others, walking quietly around the school, lining up quickly, quietly and in a straight line and by working hard in class. Lots of senior class teachers gave us points and Mr Scully even gave us a point for walking quietly out of assembly. As a result of us earning so many points we got to have an extra 5 minutes of yard after break today.