Happy New Year everyone!
All of us in Seomra Chormac hope that you and your families have a happy and healthy year ahead!
4th Class were delighted to return back to school and share their New Years resolutions after their Christmas break! Let's hope we can keep them up for the next twelve months!
Since returning, we've been learning all about technology; from the past, present and predicting the bright new inventions for the future. We became engineers and worked together to create some of our own brilliant ideas for the future. Ms. Woods was extremely impressed with our creations! We all thought that Marcus and Daisy's idea of Google Glasses to help you cheat in a test was a genious idea, although by the look on Ms. Woods' face, she didn't seem to agree! (We're not supposed to say this, but she told us that she actually loved it!!!)
We're learning about narrative writing and how to write interesting and exciting stories for people to read. We've been discussing the importance of a setting and how to create intriguing characters for our stories. We're sure that you'll be attending some of our book signings in the not too distant future!
We've also been learning lots of new information and facts about New Zealand and The Maori People. We used enquiry packs and worked in groups to make projects on New Zealand. This was so much fun! During Art we used clay to make pieces of jewellery that The Maori wore. We even got to decorate them with jewels and sequins if we wanted to. We're really looking forward to making more Maori art over the next two weeks!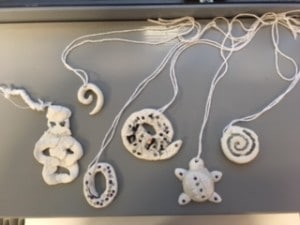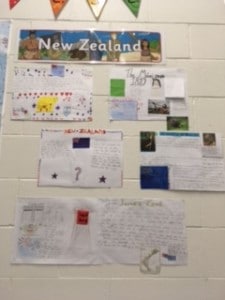 That's all for now!
Ms. Woods' 4th Class