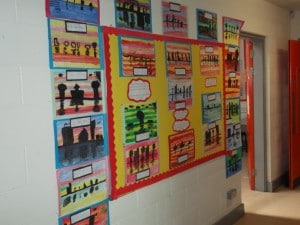 Scoil Ghráinne had its annual Art Day on Friday 16th May this year. The day was great fun and all classes got involved in lots of art activities as well as looking at the arts of others. A beautiful summer's day allowed the infant classes to go outside and create pieces of art on the pavement using chalks. We saw designs like human figures, spirals and zigzags. It gave the school a very 'Arty' feel.
All the classes were given an opportunity to walk around the school and look at the artwork of the other children in other classes. There were beautiful reflection pictures, detailed weaving and cartoon strips. Some of the infants created lovely pictures using aeroplanes and boats.
All the classes were also looking at art from artists like Da Vinci, Botticelli and other Renaissance painters and sculptors.
3rd and 4th class were designing and writing a story book for the infant classes. Seomra Phóipín created a book entitled "Mouse Race." Each student took and part of the book to illustrate and put it together.