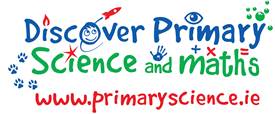 We were delighted this week to find out that Scoil Ghráinne had been awarded a Discover Primary Science and Maths Plaque of STEM Excellence for the 2014/15 academic year. This is the 2nd year in a row that we have received this award. This award recognises all the science, technology, engineering and maths work (STEM) we have done in the school this year. To receive the award we had to complete 5 steps and submit a logbook of the science, technology, engineering and maths work that we did for each step. Some examples of the work we did for each step are below.
Step 1: Science
All the classes in the school completed hands-on science investigations.
The 1st and 2nd classes had visitors from the Sustainable Energy Authority of Ireland who taught them all about energy efficiency and environmental awareness.
We had a Scoil Ghráinne Science Week in March.
Secondary school students from Pobail Scoil Setanta visited 4th and 5th class and did some science experiments for us.
Step 2: Technology
We have been trying to include technology and ICT into Science and Maths learning as much as possible in Scoil Ghráinne:
School computer room – the school library has been kitted out with enough computers for a whole class and each class in the school has time to use the computer room each week. This is great for researching projects and using maths and science websites.
Computer Club – 4th and 5th class boys and girls learnt how to code using Scratch programming.
Twitter – the three 5th classes have been using Twitter to share information and even tweeted each other Maths problems during the school Maths Day in April.
Blogging on the school website – each class in the school has a turn to blog on the school website about the work they have been doing.
Teachers use the interactive whiteboard resource 'Exploring Our Energy' as part of their science lessons.
Maths Eyes – as part of our Maths Day activities all classes in the school took part in the 'Maths Eyes' photography project. This involves taking a photo of world around you and trying to see the maths in the photo. http://www.haveyougotmathseyes.com
Step 3: Engineering
As part of Engineers Week 2015 Engineers Ireland arranged for an engineer, Ronan Kearns, to visit our school. He spoke to our three 4th classes.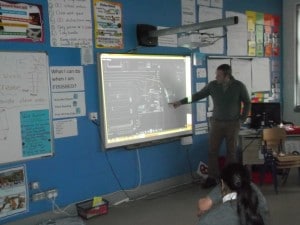 Many classes in the school also investigated engineering by completing design and make projects such as designing and making a wind car, an airplane, a parachute, a wind vane and rain gauge.
Step 4: Maths
As well as using maths skills everyday as part of our Maths lessons we also had to show how we used our Maths skills and knowledge as part of science. For example Mr Quilty's 4th class monitored electricity usage in school as part of their science work. They then used their Maths knowledge to graph their findings and calculate the cost of the electricity.
We also held a whole school Maths Day in April to promote Maths learning in the school. Some of the activities included:
Maths games
Maths investigation tables
Maths Walking Trails
Maths Table Quiz
Step 5: Science Showcase
As part of our science week activities each class level was given a topic and choice of experiments / investigations to do. These were then displayed in the school for other classes and parents to see on Science Day. Each class went around the school to look at the displays and to learn about the experiments and investigations done by other classes.
Topics:
5th – Space
4th – Heat & Light
3rd – Electricity
2nd – Energy and Forces
1st – Plants / Food
Senior Infants – Water
Junior Infants – Living Things
Here are some photos of the different displays: