On Friday 8th December, Domas, Grace, Samuel and Sabir from Ms. Woods' 4th Class took part in the Regional Finals of the Intel Mini Scientist Competition in the Institute of Technology, Blanchardstown. The children won the school round of the competition on the 24th November and spent the two weeks deep in preparation for the Regional Finals. Their project was called 'Bendy Bones'. This experiment investigated the effects of various liquids on chicken bones. To everyone's amazement, the vinegar caused the chicken bone to become like rubber. It could bend in any direction. They observed these results as the acid in the vinegar removed all of the calcium from the bone and all that was left was soft tissue.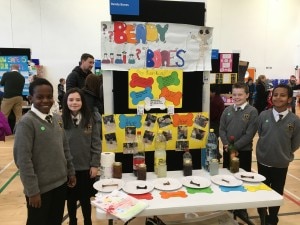 The children faced some stiff competition on the day, as they were competing against a whopping ninety one schools from all around Dublin and Kildare! They presented their experiment to the judges in a very confident manner and did not hesitate when answering any questions that the judges asked them. Both judges commented on how friendly and polite the children were. They really enjoyed the day in ITB and they were very lucky as they got to see a cool science show! Samuel was even lucky enough to be chosen to help Science Sue with one of her experiments!
Unfortunately, it wasn't to be on the day! However, Ms. Woods, Mr. Scully and all of the 4th Class teachers and children were extremely proud of them, the massive achievement it was for them to make it to the Regional Finals and how well they represented Scoil Ghráinne throughout the process!
If you see them around, make sure and give them a massive well done!