There has been a lot happening in Seomra Oráiste over the past few weeks.
We read the story "The Bad-Tempered Ladybird" by Eric Carle in English. We learned all about minibeasts in science – ladybirds, spiders, ants, snails, caterpillars, beetles and so many more! We even went on a "minibeast hunt"!
Look what we found!
In art, we made beautiful gardens and filled them up with minibeasts. Do you like them?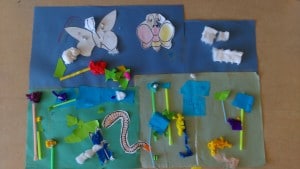 As it was also Intercultural Week in Scoil Ghráinne we learned about the African country Kenya. We know it is very hot there and many interesting animals live there, like the lion and the elephant. We also learned about the Masai Warriors and their jumping dance.
We got all dressed up in our own national colours and costume for Intercultural day. Don't we look nice!
We are very excited about the upcoming summer holidays. We hope you enjoyed all of our blogs this year! Slán ó Seomra Oráiste!