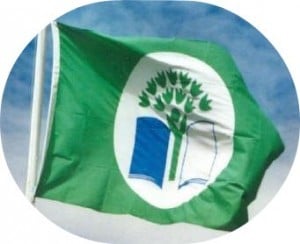 Green Flag Success!
Fantastic news for Scoil Ghráinne this week as we have received confirmation that we are to be awarded our second Green Flag which is for Energy Conservation! A huge "Well done and congratulations on your hard work!" to all  staff and pupils. A lot of hard work was done by the whole school to ensure we completed all the steps needed to receive this flag.
However, an extra big 'Well Done!' goes to the  pupils on the Green School Committee as they have been working extremely hard all year reminding staff and their fellow pupils to conserve energy and to keep our school clean. We are very proud of them!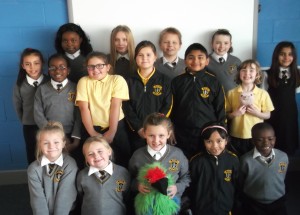 The staff members on the committee are Mark Healy, Ms. Scott, Mr. M. Byrne, Mr. N. Byrne, Mrs. Prior and Ms. O'Keeffe
To be awarded the Green Flag for Energy Conversation we had to complete the following 7 steps:
Establish a Green School Committee

We select a new committee every September and it is made up of pupils and staff.

Conduct an Environmental Review

This involved looking at how much energy the school was using in 2013 and identifying where we could make improvements to reduce our energy usage. You can see some graphs below that show how much energy we saved.

Develop an Action Plan

The Action Plan broke down our overall targets into smaller goals. Some of the goals on our Action Plan this year were:

Having a Day of Action to raise awareness amount energy conservation
Turning off the lights, computers & IWBs in classrooms when not needed
Closing the doors to the school after yard to keep in the heat
Reusing paper as much as possible

Monitor and evaluate our progress

We had to regularly monitor our Action Plan and identify where we were succeeding and where we needed to do more

Curriculum work on Energy Conservation

Class teachers taught their pupils about energy use and conservation and we had visitors to the school who did workshops on energy conservation and recycling with different classes

Informing and involving the whole school committee

We kept the whole school informed of the work of the Green School committee through the Green Schools noticeboard, the school website, class competitions and by holding a 'Day of Action'

Develop a Green Code – Our school Green Code is:
Don't be mean, just be GREEN,
Keep our school nice and clean!
Turn off the light when it's bright,
Come on children, do it RIGHT!
These graphs show how much energy we saved: