Hi everyone,
In Seomra Oráiste we have been super busy! At the beginning of March we learned all about people who help us. After we chatted about what we would like to be when we grow up. The future looks bright for Seomra Oráiste as we have future vets, footballers, teachers, lawyers, secret agents and even ninjas in our classroom.  Check out our work!
For World Book Day some children brought in their favourite books.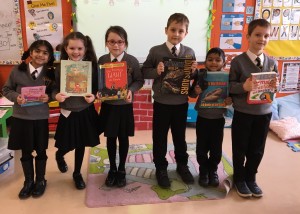 During Seachtaine na Gaeilge we had lots of fun trying our best to speak as Gaeilge. We went on a súiloid dúrla. We worked in pairs to collect lots of different things along the way. We used some Irish phrases such as
Chonaic mé crann . I saw a tree.
Fuair mé duilleoga. I got leaves.
Tá an aimsire griannmhar. The weather is sunny.
In maths we have started learning about we money. We have been using real coins to help us add up how much is in our piggy banks. We like to work with a friend as sometimes money can be a bit tricky. We have been working really hard and we are getting the hang of it now.
For art we designed spring flowers using different coloured card. First we designed flower pots. We love being creative.
Thanks for reading!