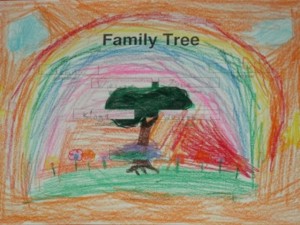 Dia dhuit agus fáilte romhat from everyone in 3rd class in seomra naoise….we rock!
Hello and welcome to everyone for checking out our first class posting for our new Scoil Ghráinne website….yahooo!!! As this month is our first month back at school we are focusing on the theme 'Myself'. In 3rd class we have been discussing and researching our family trees by interviewing our parents and also checking out primary resources such the National Archives Census of Ireland! Check out the link if you would like to search for your great great great grandfather….
Here's an image we pulled from the archives while we searched for our relatives:
Census Information from Seomra Naoise 3rd Class!
Take a look at our family tree display that the students in Seomra Naoise have worked hard to create…such talent!
Keep an eye on our school blog for the latest updates….Seomra Naoise signing out!