Over the past 6 weeks the children on Ms. O' Connor's Music Course have explored a variety of different musical concept. The boys and girls from 4th to 6th class have undertaken a variety of different tasks and activities, and have had great fun in the process.
Week 1:
For our first session we undertook a listening and responding activity. We listened to 6 different classical pieces which included Ludwig van Beethoven and Mozart to mention but a few. We read about the lives of the different composers and then explored one particular piece by each composer. We then decided to respond to the music through art and we painted pictures to depict each piece. Here are some of our masterpieces: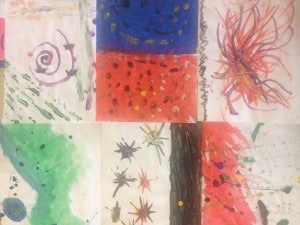 Week 2:
For our second session we began learning a song written by the famous Ed Sheeran. The piece is called "I See Fire". We initially explored the lyrics and discovered new words such as desolation (it means 'great unhappiness or loneliness'). We then had a run through of the song and recorded our first performance.
Week 3:
We began our third session by introducing tuned instruments. Tuned instruments are instruments that play different pitches. Everyone was divided into small groups and each group were responsible for playing a triad (a 'triad' is simply three notes of a chord – the doh, me, and soh pitches). The different triads made for a fabulous accompaniment to our song "I See Fire". Ms. O' Connor added the harp and then with a harp, tuned bells and 18 lovely voices we recorded our performance. Have a listen!
Week 4:
For this session we explored different percussion instruments and made drums! Everyone made a drum using the simplest of materials. To make a drum, all you need is; a cylindrical shaped container, balloons, elastic bands and pencils with rubbers on the tops. Be careful though, those balloons pop easily!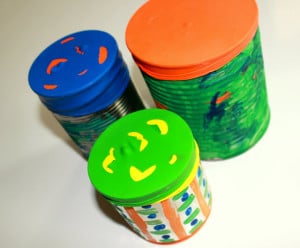 Week 5:
For our fifth session we explored rap. We identified different characteristics of rap like rhythm and rhyme. We then listened to different types of raps – raps from our favourite T.V. shows and raps written and performed by families. We then tried rapping "The School kids' Rap". Have a listen!
Some of us wrote some great raps too. Here is an excerpt from a rap written by Emmanuel:
 "No sweat, no fear, no blood, no tears,
I work hard and I make no excuse
Am overdue and I do what I'm supposed to do
Man you can think about it we ain't supposed to lose,
Ain't the perfect ocean view."
As it was the week before Halloween we also decided to listen to a spooky soundtrack and draw every sound we heard. Here are some samples of our work:
Week 6:
For our last session we did a few different things. Firstly we reminisced on what we had accomplished over our time on the music course. We all discussed what our favourite parts of the course were and what we would like to do in the future. We then spent some time working on body percussion. Finally to celebrate the end of a great six weeks, we had a small party and listened to some….MUSIC!
Here are some of the things we said about the course:
"I really enjoyed the Music Course and had lots of fun. My favourite part of the course was learning Ed Sheeran's song. I'm so joining the course again! I would love to become a musician when I grow up"- Robinah 
"My favourite part in Music Course was when we listened to music and painted pictures. I loved the music course. We had a lovely teacher and I can't wait 'til next year"
"I really liked the Music Course because I found out about lots of new things in music. In the future I want to create songs." 
"I really liked playing the different instruments like the bells." – Coleen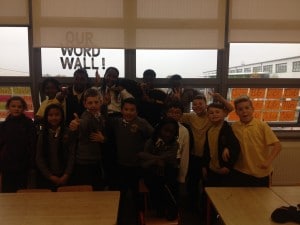 Thanks for reading! 🙂