We have had a very busy first term here in 3rd Class in Scoil Ghráinne.
We have been learning all about life in Ancient Greece. We worked together to create projects on the different food they ate, schools in Ancient Greece and the first Olympic Games. We even wrote our names using the Ancient Greek alphabet and designed Greek vases inspired by Athens and Sparta.
In Maths we are continuing to learn our multiplication tables and have started learning about 2D and 3D shapes and symmetry. We have also been practising report writing in English and have written reports on our favourite animals. We have been learning about internet safety and how important it is to be respectful to others online and to never share personal information on the internet.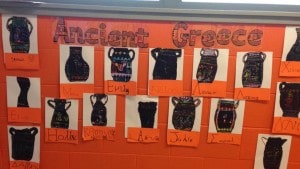 We were very lucky to receive a visit from artist Eva Kelly who taught us about book illustration. We designed our very own books inspired by school life in Scoil Ghráinne. We had a great time during the workshop, thank you Ms. Kelly!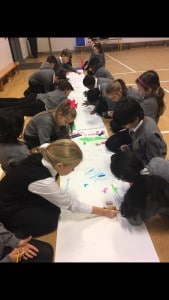 Last week was particularly busy for 3rd class as we prepared for our Winter Performance. We spent a long time practising our songs and moves and got all dressed up in red, green and white for the show. We performed a medley of some of our favourite winter and Christmas songs.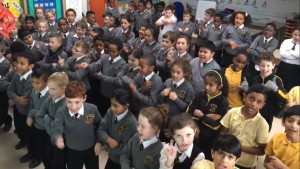 We hope you enjoyed reading and wish everyone a very Merry Christmas!
Seomra Iseult, Seomra Setanta and Seomra Aengus