Physical Activity
As a whole staff we understand the importance of children receiving at least 60 minutes of physical activity every day.
We endeavour to support this through movement breaks throughout the school day and by integrating physical activity across all curricular areas. Teachers use Go Noodle for both energising and relaxing exercises daily. On wet days children complete 'Indoor Recess' from Go Noodle.
During Active Week we synchronise the timing of DEAD ' Drop everything and dance'
Each morning from 8:30 during February and March Mr Quilty and Ms O'Mahoney facilitated the Run a Mile event on the astro pitch which was optional for all children.
As a whole school we are completing the Run Around Europe Challenge in the four weeks leading to Active Week 2019 (June 17

th

 – 21

st

).
Scoil Ghráinne's GAA Blitz runs over seven weeks for 3

rd

 and 4th class (160 children) during lunch times. Each team is named after a county and managed by two teachers. 16 teachers give up one yard a week for games. The winning team will have team name engraved on plaque – to be added to annually e.g. 2014 – Waterford, 2015 –Limerick, 2016 – Meath.
The Blitz Final takes place every year during Active Week.
Yard Games Intervention in the Junior Yard: Play Works
Over the past two years we have adapted Play Works for our school.
Play Works (https://www.playworks.org/)
Conflict Resolution
Recess doesn't have to be chaotic. At a better recess, kids acquire tools to work out disagreements and differences.
Leadership Skills
When they're playing amongst their peers, kids have a valuable opportunity to develop a sense of fairness, confidence, and communication.
Academic Success
Kids who are engaged during recess are more likely to participate in class, which means better attendance and better grades. 
Golden Tickets are given to four children in each class before going to second yard (RSA Armbands).
We have seen a significant reduction in behavioural issues and injuries since the introduction of the structured games.
All 4

th

 class children were trained to lead games. Once trained children can volunteer to lead games in the infant yard.
There are four leaders per station:

Responsible for line of children who want to play, this person can then circulate encouraging children to join their game
Explains/demonstrates how to play the game
Two children guide the game when being played

Station 1 – Games
Station 2 – Games
Station 3 – Clapping rhymes
A calm station – this additional station has been added after receiving feedback from teachers and children. Children are welcome to come and sit and read, hold a teddy bear or to take out a calming item from the sensory box. It is limited at the moment to the children with the armbands but if on yard teachers feel a child might need some time to relax, they can allow them in to the area also.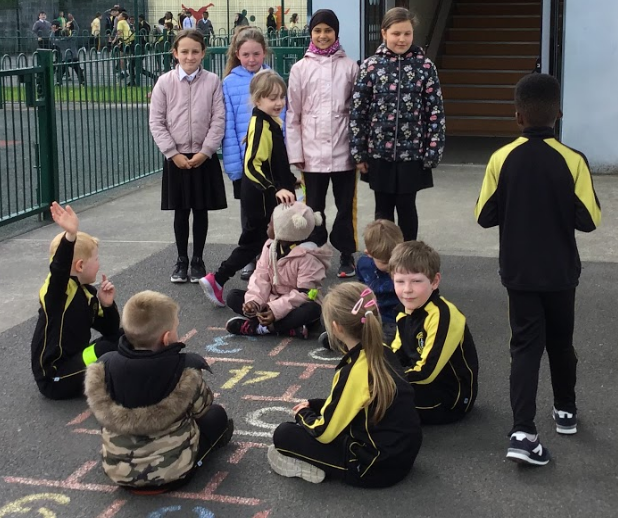 Middle and Senior Yard
The Active School Children's Committee bring out, distribute and collect equipment in the Middle and Senior Yards.
The children use balls, skipping ropes and hula hoops.
Both yards have a zone provided for football. Balls are also used for throwing and catching games.
Staff in all three yards encourage children to keep moving throughout their yard time and to 'Do Your Talking as You're Walking'.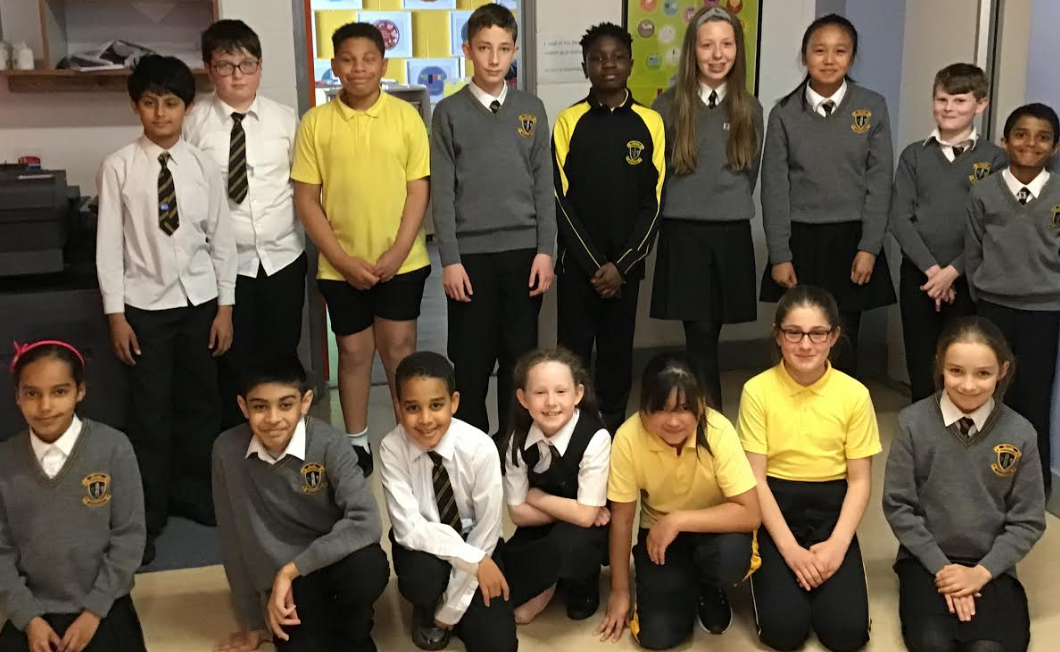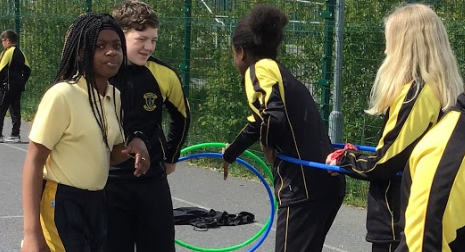 Helping out
We love to burn extra energy by helping Robbie around the school with jobs!