On Wednesday, one of our school's quiz teams took part in the first ever series of PhoenixFm's School Duel series.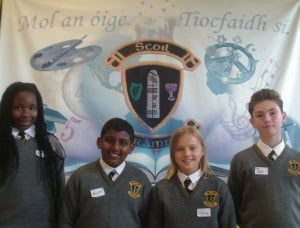 The team were pitched against Mount Sackville School in a nail biting competition. There were rounds of easy, medium and difficult questions. Our team were trailing in the scores for much of the competition but came boack to win by a margin of 10 points in the end. Congratulations to Josh, Aaron, Claire and Hazel from 6th class and we wish them luck in the next round.
Our two other quiz teams made up of Neha, Shruthi, Daniel, Karolina, Jeffrey, Sara, Ben and Jodie are working hard preparing for our other quiz competitions in January.