Hi everyone!
We have been really busy in fifth class the last few weeks. We have been having great fun going swimming every Tuesday, and next week is our last week.
In class, we have been learning all about area in maths, and we went on a shape hunt around our classroom. We spent time writing up Procedural Writing pieces, so if you want to know how to bake brownies, play FIFA or become a famous author, pop in and have a look at our finished work!
We have been gathering information on the 1916 Easter Rising and sharing interesting facts with one another. We even made timelines of the events. We all took part in news reports from the time, and everyone played the part of a leader, a witness or a journalist.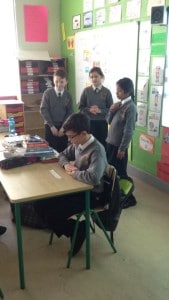 Sami was the news reporter and Jefna interviewed Keith and Katia at the scene of the GPO.
Stephen and Maria interviewed Nurse Elizabeth O'Farrell, played by Malina.
We would like to say "Well Done" to the school quiz team, and to Claire who represented our class.
That's all for now,
Miss Moloney's 5th class 🙂