Hi everyone,
We have been busy learning lots of new things this week. We had great fun using our Maths Eyes, both in school and at home and we really enjoyed Science Week too!
For Science week, we learned all about sound. We made our own ear protectors and tested these in the classroom. We used cotton wool, paper and cups and had great fun trying them out. We even made our own musical instruments and tested what materials worked best to block out the sounds from these.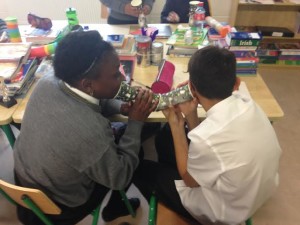 "Can you hear me now?"
We had very special visitors from Transition Year in Coláiste Pobail Setanta and they showed us some amazing magic tricks using Science. Some of these we can do at home too, so we might try this over the midterm. We would love to say a big Go Raibh Míle Maith Agaibh to these students, we loved it!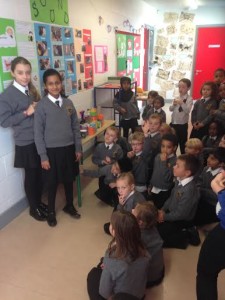 Ms. Hillary's class came to see our Science experiment so we told them all about           sounds and ear protectors. We hope they enjoyed it!
We did lots of other things too, like narrative writing, division and learning about Myths and Legends. We even wrote our own dramas and performed them for the class!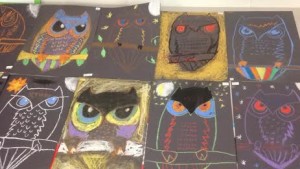 We made these gorgeous spooky owls using pastels
It has been a great week in fifth class, and we hope you enjoyed hearing about it. We would like to wish everyone a fun and safe mid term break!
Miss Moloney's Fifth Class 🙂