This month, the boys and girls from Seomra Naoise have been blogging with a class from Dubai on kidblog.org!  Their class name is 3 Silver and their teacher's name is Ms Sophia.  We are really enjoying talking to them about their learning, life in Dubai and of course the differences between Ireland and Dubai!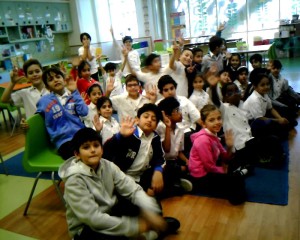 3 Silver
So far we have learned lots!! These are some of the interesting points we have learned!!
The weather is so different compared to the weather here in Ireland.  At the moment it is (on average) about 24 degree celcius! They also said it hardly rains!
They are surrounded by desert and if they drive ten minutes, they often see camels!!
Most of the subjects they learn in school are the same as ours but they also learn Arabic and we learn Gaeilge!
Their weekend is Friday (because this is their main praying day) and Saturday. They go to school on Sunday!!
The children from 3 Silver call their teacher by her first name (Miss Sophia) but in Ireland we call out teachers by their surname!
The topic they are learning about at the moment is 'Dinosaurs'.  We have also learned about dinosaurs this year
Take a look at their school  website http://www.srsdubai.ae/index.html
You can see where their school is located on this map: https://www.google.ae/maps/@25.2005787,55.437012,720m/data=!3m1!1e3.