This week in Seomra Oráiste Senior Infants we have been exploring the theme of Space. During Aistear, we have been busy in our very own Space Station, working on the laptops, checking information about the planets, even going on space walks as astronauts in our space suits. Sometimes we have even encountered aliens, who were very friendly fortunately! We learned all about the 8 planets in our solar system and also about Pluto, which isn't a planet any more, just a dwarf planet.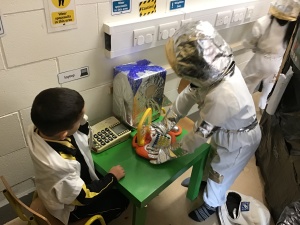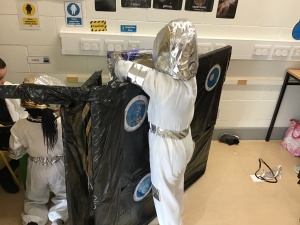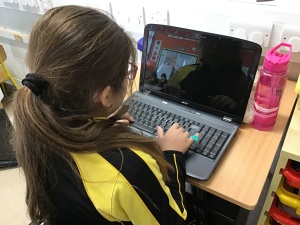 We got a chance to cut out and paste different shapes to create our very own aliens.
We talked all about light and the different sources of light, like the sun, torches, streetlights, candles and lamps. We got the chance to use our own torches and tried to discover which materials around the room let light through it (transparent) and which materials did not let light through. (opaque)
We read the story Whatever Next! by Jill Murphy. It is about Baby Bear who goes on an adventure to the moon. He travels in his rocket out of his chimney and meets a friend, the owl, along the way. When they get to the moon they even have a picnic together. We loved reading the book and got a chance to create a still image of our favourite part of the book in groups. It was funny when different boys and girls were pretending to be a chimney, an aeroplane and his rocket box!
We have been continuing to practice and learn our phonic sounds. We love our phonics stations times and get to play fun games like Bingo, Roll a Word and Fiddlesticks. We are learning to read and practising with our teacher. This week we talked about the 'z' and 'w' sounds. We tried to circle words with those sounds in our story, then we wrote down as many 'w' words we could think of.
In Maths, we have been busy working in our Ready Set Go Maths groups creating patterns, using Cuisenaire Rods, sorting items, counting and playing so many more fun games. This week we have also been learning about length. We measured different items against each other to see which was longer or shorter. We also estimated (made a good guess) how long a ruler, book and our tables were. Then we used matchsticks to measure them and recorded our answers on a sheet. Some of our estimates we exactly the same as the actual measurement!
In Gaeilge we have been learning all about bia. (food) We learned lots of new Irish words like úll, oráiste, brioscaí, criospaí, tráta, práta, ceapaire agus banana buí and even have a song about them. If you meet any of us, why not ask us to sing it for you! We learned about different parts of the cistin (kitchen). We got a chance to tarraing pictúir (draw a picture) of different things in our kitchen. (doirteal, cathaoir, bórd, cupán, spúnóg)
We have been very lucky this week as we had an extra teacher Ms. Golden in our class and she has been teaching and doing lots of fun lessons with us. We have learned lots of new games and done loads of activities with her in the classroom. She has taught us new songs and we have been learning new dances during PE too. She is so much fun and we will miss her when she leaves us!