This month in Seomra Oráiste we have been learning lots of new and exciting things. We read the story 'Dear Zoo' by Rod Campbell. In this story the zoo send a series of unsuitable pets which are hidden, we had great fun guessing which animal was hiding. These animals are all sent back for different reasons, except the last one, which is perfect! We made zoo animals using our handprints. Check them out!
In science we learned all about elephants. We discovered some cool facts! 'Did you know?' The largest elephant on record was an adult male African elephant. It weighed about 24,000 pounds and was 13 feet tall at the shoulder! During science we labelled all the parts of the elephant. It was great fun!
We have new groups for Daily 5 and we are all working on building stamina to become readers. We have been working on accuracy. This means making sure we are reading the words the right way. It's so important that we know our tricky words so we have been making them using letter cubes at the word work station.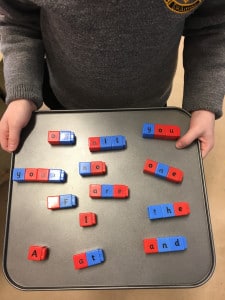 This week we read the story 'Whatever Next' by Jill Murphy. In this book Baby Bear flies a rocket to the moon. We loved this story so much we created our own space scenes for art using oil and chalk pastels to make the planets really stand out! Here are some of our masterpieces!
Thanks for reading 🙂