Hi Everyone,
We've had a great month so far in 3rd Class. We've been doing super work!
We made Dublin jerseys to support Dublin in the All Ireland Final. We were so excited when they won!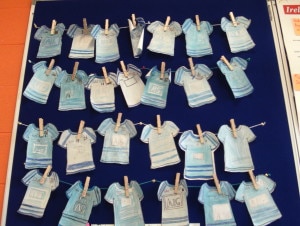 We've been learning all about the environment and how to take care of it. We made projects about how long it takes items to decompose into the ground. It was really interesting!
We even made instruments out of recyclable material! We made maracas, guitars, flutes and Kazoos. We can play the beat to We Will Rock You using our instruments.
We had a very special day in Scoil Ghrainne on Wednesday the 30th of September. Two members of the Defence Force came into school. Below Lizzie and Nathan will tell you all about it.
The Easter rising
The Easter rising was a big battle between England and Ireland. This battle was because Ireland didn't want to be under British rule anymore. The Easter rising was in 1916. Ireland did not win the first battle and Britain killed over 1200 people. Some important people like Thomas Clark, Sean MacDiarmada, Thomas MacDonagh, Patrick Pearse, Eamonn Ceannt, James Connolly, Joseph Plunkett signed a very important document called the proclamation of Ireland. On the Wednesday the 30th of September the Irish Defence Force  came to our school. They  presented us with the Irish flag and the proclamation. 5th and 6th class sang the national Irish anthem. We even got to shake their hands afterwards. It was a brilliant day.
By: Lizzie and Nathan.
I hope you enjoyed reading!
Slán
Seomra Setanta.