Our tin whistle class hosted their first concert of the year. They played a variety of pieces learned from beginner to intermediate standard.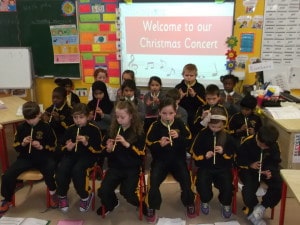 We are so proud of how far the intermediate class have come. Their skills have improved immensely over the last year. We are also incredibly impressed with the beginner class and how quick they have picked up their new musical instrument!
Well done to all children involved and thank you to all the parents and friends who came along to our concert.
Our classes start back on January 11th and a new term will begin on January 25th for any children who are interested in starting the Tin Whistle.
Looking forward to seeing you in the new year!
Ms. Dowling and Ms. Dooling 🙂