On Tuesday night last, at a special ceremony in the school, we sadly said goodbye to another group of 6th class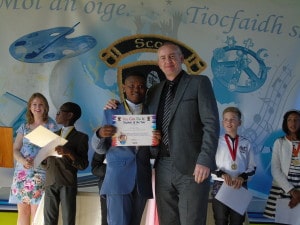 pupils. These students started school 8 years ago in the prefab building on the campus. They have had many adventures along the way. Many parents, teachers and friends gathered together to say farewell through songs and poems.
We celebrated the achievements of a lot of students on the night. Many children received awards for the You Can Do It foundations:
Getting along: Alexandru
Resilience: Sam
Confidence: Emanuel
Organisation: Justine
Persistence: Amira
Overall Student of the Year: Chidozie and Dave
Many children received excellence awards for school attendance with Chidozie and Promise receiving 'Best Overall attendance' for all of their years at Scoil Ghráinne.
There were blessings given from representatives from each of the belief communities and everyone enjoyed homemade treats and a cup of tea afterwards. A special presentation was made to our school manager Mr. Ian Murphy to mark his stepping down from his role after an impressive 9 years. His management of the school will be taken over by our new Board of Management.
A great night was enjoyed by all and the 6th class will be missed by their teachers Ms. McPartlan, Mr. McCarthy, Mr. Byrne, Ms. Ryan and all the staff in Croí.