The children in Seomra Dearg have been reading a new story called "Dear Zoo". We are learning all about the different animals that the zoo sent in the story. We learned about adjectives to describe the different animals, like the tall giraffe, the grumpy camel, the scary snake, the jumpy frog and the perfect dog! We learned a new action poem, called "Walking Around the Zoo!" if you come into our room, make sure you ask us to perform it.
We talked about the different body parts of animals and compared them to the body parts humans have. We discovered that animals and human have a lot of body parts in common (head, nose, ears, arms, legs, back, eyes, skin) but that some animals have different body parts (trunk, wings, tails, tusks, antlers, gills). We sorted lots of animals into different sets e.g. how many legs they have, if they have a tail etc.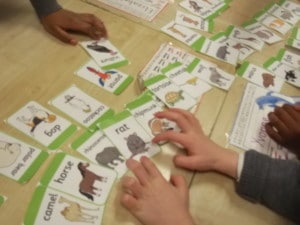 Unfortunately we had to bring many sick animals to the vet this week and the vets have been trying to make the poor animals feel better. They decided whether they needed a bandage, an injection or some tablets. We have also been trying to solve a giant wild animal jigsaw!
During Music, we listened to a low song about Elephants and a high song about a Nutcracker that turned into a prince. We stamped around the room like big, heavy elephants and tip-toed around the room like the magical Nutcracker Prince.
We are loving our Listening Station during Daily 5, where we get the chance to hear some of our favourite stories being read out to us. We get to talk to our partner afterwards about our favourite parts of the stories. We continue to work hard on our reading and writing, and love having Ms. Gallagher, Ms. Davy and Ms. Glynn in our room helping us.
We have been counting money in Maths, learning all about money and the different coins we use. We learned that our money is called Euro and Cents. We sorted all the coins from 1 cent to 20 cent and we also had fun making rubbings of the coins onto paper.
In Art, we used our hand-prints to create jungle animals. It was dirty work, but we loved getting our hands messy. We added spots, stripes and tails to our animals. We gave them fun wiggly eyes to make them come alive too!!!
In the class we are looking forward to the 1916 celebrations and Proclomation Day. We have listened to Ms. O'Connor's brilliant song and can't wait to hear the whole school singing it. Soon we will be learning a new song called Molly Malone to sing on Proclamation Day. The whole school is really looking forward to this great day for Scoil Ghráinne and Ireland!